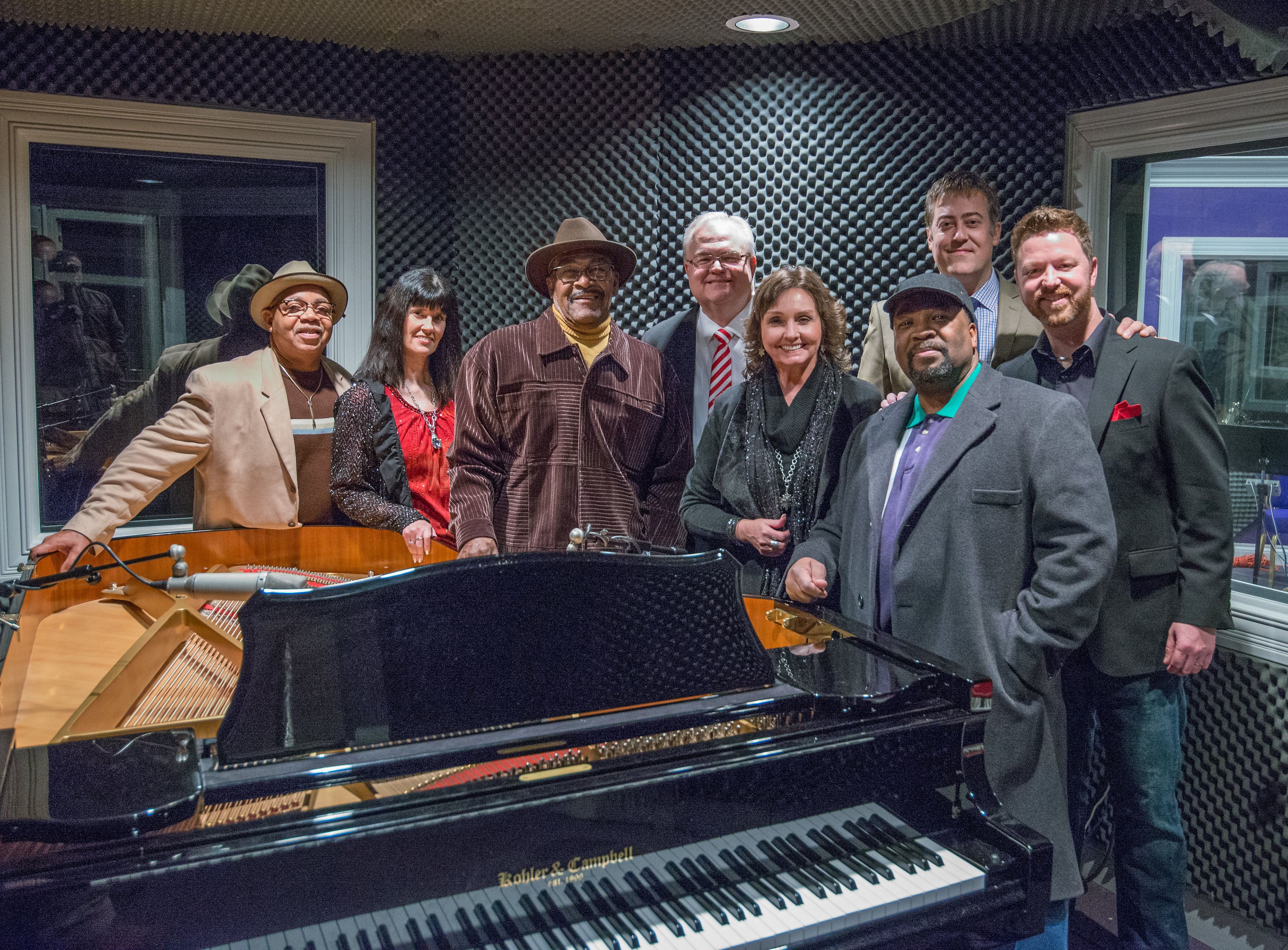 Nashville, TN (Jan 26, 2016)  Butler Music Group artist Sacred Harmony recently released Believe, setting up 2017 to be a banner year. Top industry professionals and representatives from numerous Gospel groups gathered at the Family Room Studios in Gallatin, TN to celebrate their new project. The night was filled with first-class music, fellowship and fun as Sacred Harmony shared their hearts through impactful songs from their new album.  
Believe is a unique album for Sacred Harmony, showing off the musical influences that have helped to create the group's unique sound. The ninth track on the album, "Bury The Workman," has heavy Black Gospel influences, featuring Grammy award winning artists, The Fairfield Four. The Fairfield Four, also known from their role in the  adventure film,   O Brother, Where Art Thou, joined Sacred Harmony at the release party to share this dynamic song for the first time.  
Other songs on the album, such as "Grave Robber" and "We Believe" represent Sacred Harmony's ability to reach a wide variety of listeners across the Southern Gospel, Inspirational, and Contemporary Christian genres. These breakout tunes, along with more traditional picks, such as "Up To Something" and "Behind the Scenes" allow Sacred Harmony to present the Gospel in a unique and powerful way.  
Sacred Harmony member Janet Weaver states, " This album was a leap of faith for us. Some may know, but last year brought some valleys that we had to walk through as a group. Through it all, God has been faithful. He led us to some incredible songs, and He allowed us to work with one of the most talented and spirit-filled producers, Les Butler of Butler Music Group. We are also honored to have the Fairfield Four on this special album. We are blessed to call them friends and look forward to working with them in the future. We are excited to share the message of these powerful songs as we travel the country in the upcoming year.  
Les Butler states, "This is one of the most unique albums I've ever produced.  Working with Fairfield Four was an unbelievable experience - a career highlight.  Also, when Sacred Harmony brought me the 80s Petra hit "Grave Robber," I almost fell out of my chair!  With the help of my son Matt, who is a stellar engineer and musician in his own right, we have changed the treatment of this song to easily fit into the Southern Gospel format.  And, wow...what a lyric! I am proud of Sacred Harmony.  They had to stretch to make this recording special and that's exactly what they did.  Well done!"